From a 400-square-foot office to $60M in billings: How Houston's largest architecture firm came to be
Excerpt from Houston Business Journal
 During his first two years as CEO of PBK, Dan Boggio worked alone in a 400-square-foot office in Greenway Plaza. It was 1981, and he'd just left RWS Architects, a smaller architecture firm that's still operating in Houston. He didn't have much – no employees, a few contacts in education and eight-hour days to fill with small jobs that included retail strip centers and minor school repairs.
"I was everything — the architect, the secretary, the draftsman," Boggio said.
A couple of years later, Boggio could afford to hire a few more employees. And now, nearly 40 years later, PBK is Houston's largest architecture firm when ranked by local billings.
The firm has consistently ranked near the top of the Houston Business Journal's List of Largest Houston-Area Architecture Firms. Last year, it ranked No. 2, just below industry mammoth Gensler. But this is the first time since 2010 that PBK has taken the top ranking on the List.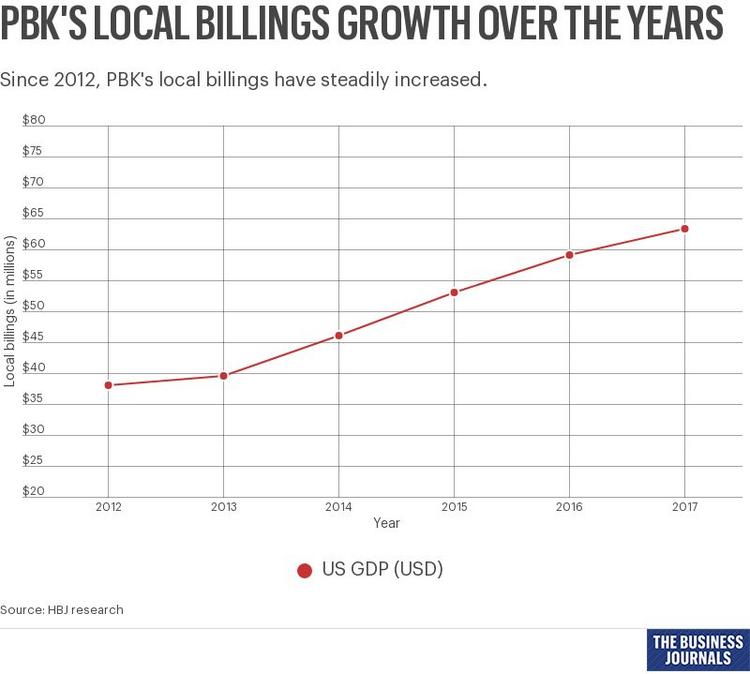 PBK, which primarily works in education, had a busy year in 2017. The company opened its first international office in Beijing in June 2017 and finished a $2.6 million overhaul of its office in Greenway Plaza after several years of steep headcount growth. Its headcount has grown by more than 20 percent every year since 2013, Boggio said, and PBK's revenue grew by nearly 8 percent between 2017 and 2018.
And though it isn't taking a profit from its work in this sector, PBK has seen an increase in schools looking to beef up their security measures amid the increase in school shootings throughout the U.S. Earlier this year, PBK hired Chief Alan Bragg, formerly of Cy-Fair Independent School District and Spring Independent School District, to advise the firm as it designs new schools and outfits existing schools with modern safety enhancements. When PBK finishes a school safety project, it'll only take the necessary funds to pay the consultants who worked on the project, and any additional funds will be donated to organizations for victims of school shootings, Boggio said.
"The last thing we wanted to do was capitalize on something that's tragic," Boggio said.
What trend has defined school design in 2018? There are two big trends – one is certainly safety and security, and the other is next-generation learning. The teacher is not lecturing as much as they're guiding groups of students working on real-world problems. So, that has a big effect on the interiors of schools.
In layman's terms, what is next-generation space? Next-generation classrooms can easily accommodate students working in groups. It's not about having desks with tablet arms, but it's about having furniture that's adaptable to several different configurations. You're going to find a lot of transparency throughout the schools, such as glass walls between the classrooms and corridors, which have been activated as learning spaces. They have areas where kids can walk out of the classroom with four or five classmates, work on a project, and with the glass walls, teachers can still keep an eye on them.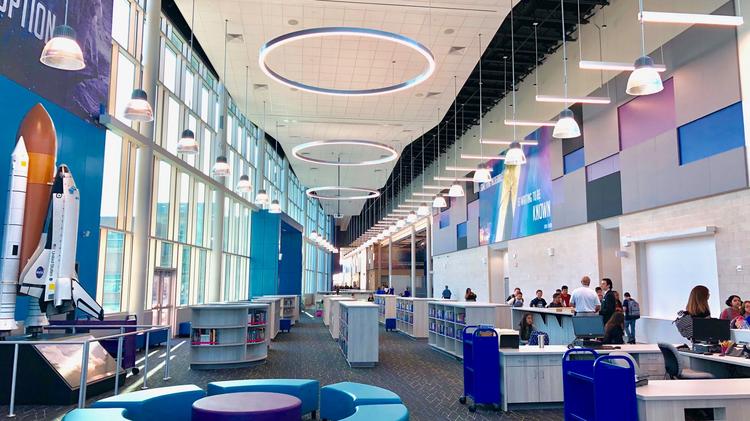 Open gathering spaces are a common feature in today's public schools. This photo was taken in Kranz Junior High in Dickinson ISD.